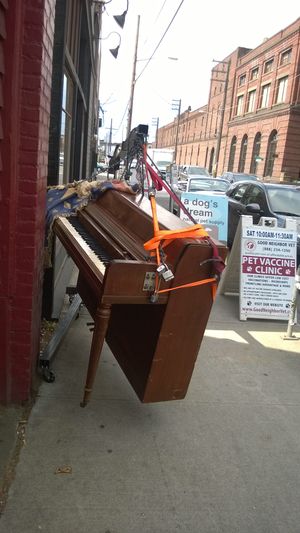 The story so far...
Jonathan Sindelman is an accomplished keyboardist, programmer, arranger and composer, well known for his contributions in contemporary music.  Originally from Los Angeles, Jonathan was self-taught on piano, writing songs from the age of 5, and later an early demo of original compositions caught the attention of University of Oregon, leading to invaluable study and contact with such celebrated composers as Philip Glass, Krzysztof Penderecki and George Crumb.  
Classical Music and progressive rock were staples from an early age, though it wouldn't be long before Jonathan found himself irreparably bitten by the jazz bug, moonlighting in club scenes around Eugene and Portland while concurrently hosting a jazz radio program at the university station (KWVA FM).  Invitations steadily increased to review live music, and later a fateful trip to cover the Earshot Festival in Seattle became the foreword to a new chapter in both life and music. 
The move to Seattle was a clear choice, however upon arriving in 2001, events did not unfold quite like best laid plans.  Diagnosed with Hodgkin's Lymphoma, Jonathan saw a fork in the road and ultimately chose the healing path, and dedicated himself to toward one single purpose:  To give back to music.  
The first step came in asking a simple question, "If not composing or playing for myself, then whose music shall I play?"  The answer came swiftly and vividly:  "Play the music of Yes".  Just days later an ad appeared for a tribute band forming around Yes, looking for a keyboard player, and as luck would have it, the band were meeting in the same neighborhood!  As the old adage goes, greatness seldom happens overnight.  But eventually the right lineup locked into place, and Parallels - The Music of Yes became a mighty force.  The impact was felt throughout the Yes community and cultivated many friendships, including the members of Yes. 
In the spring of 2008, a chance meeting took place as Jonathan boarded a packed ferry to the San Juan Islands.  Sitting in the car directly in front of him was Yes drummer Alan White with his wife Gigi and daughter Cassi.  This fortuitous meeting spiraled into a multitude of synchronicity, and upon parting Alan passed along a CD of his band WHITE, which featured current Yes keyboardist Geoff Downes.  Little did Jonathan know that he would later be asked to join the band. 
Jonathan's debut with WHITE began on a stratospheric note, performing Yes's epic, "Ritual - Nous Sommes du Soleil" with an orchestra.  This concert was the first of many in support of Music education and vital arts organizations such as Synergia Northwest, Music Aid Northwest, and DOORS: Opening Doors to the Arts, seeing Jonathan joined on stage by members of Heart, Blues Traveler, Queensryche, as well as Lee Oskar, Vicci Martinez, Tracy Bonham, Geoffrey Castle, and many others.    
Following a prolific stint of session work and touring, Jonathan's return to Los Angeles coincided with performing an honorary rendition of ELP's "Tarkus" with the Keith Emerson Band, and as the stars revealed that evening, with Keith Emerson himself in attendance.  The occasion led to an invitation to tour Japan with the Keith Emerson Band in early 2016, though halted due to Keith's untimely passing.  
The official tribute concert was later held in Los Angeles, recorded and filmed for release in fall 2018.  Produced by Keith's longtime musical partner Marc Bonilla, this massive event features Jonathan performing alongside many of Keith's contemporaries, among them Eddie Jobson, Jordan Rudess, Philippe Saisse, and Steve Porcaro.  
More recently Jonathan has been active in a number of projects, including The Magic Band, celebrating the Music of Captain Beefheart.  Led by legendary drummer John French, the group embarked on a highly successful 50th Anniversary tour in 2017, and is due to resurface in the coming year.      
Jonathan is currently on tour with Googoosh, who in 2019 joined forces with her dear friend Martik, and whose legendary collaborations have shared a history spanning more than 40 years. 
Additional collaborations survey the entire musical spectrum, including recordings and performances with Mike Keneally (Frank Zappa, Joe Satriani), Frank Gambale (Chick Corea, Return To Forever), Michael Manring, Paul Sears (Daevid Allen, The Muffins), Neal Morse, and Zappa Plays Zappa.
Jonathan is a founding member of internationally acclaimed tributes to Steve Hackett (The Steppes), Yes (Awaken), Purple Rainbow 'X' (Neil Turbin's tribute to Deep Purple and Rainbow), A Farewell To Kings (Brian Tichy's all-star tribute to Rush), and Turn On Red - a fusion collective dedicated to bass legend Jaco Pastorius.